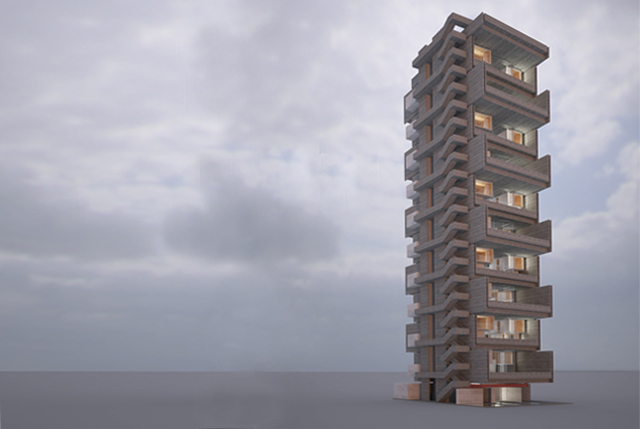 66 m Lima
66 m Lima, Peru, Competition, 2012 – with Di Gregorio Associati
Extra everything

The project is built up of units. Each unit is a free space where rooms and gardens can be assembled in various ways. The circulation is kept on the side of the units in order to keep the space inside flexible and free in plan.  It is a double height garden unit. It is closed to the neighboring sites providing privacy but open to the park and the sea for light and views. To achieve open-air gardens, the units are shifted back and forth so that each unit has one part where it is open to the air for a minimum of 12 m. The terraces face south and north in order to take advantage of the particular location of Lima where the sun arcs across both the northern and southern sky depending on the time of the year. The actual house sits comfortably behind a layer of private gardens.
Each unit has a flexibility-floor through which all pipes and services run. From the floor the pipes are connected to a shaft in the circulation zone. The floor also holds the gardens and the pool. It is possible to have the gardens, the pool or other recessed objects wherever desired, within the structure of the floor. The floor and walls are naturally ventilated due to their double structure. The only object that interrupts the units is a solarpipe that goes through the entire building with high reflective mirrors and a translucent glass in order to bring light into the deeper parts of the building. The entrance floor holds a cafe and the rooftop holds a communal pool and garden area.
The project creates 10 private garden houses in the sky with direct connection to both the pacific Ocean and the Golf Park / city of Lima all the way to the Andes.