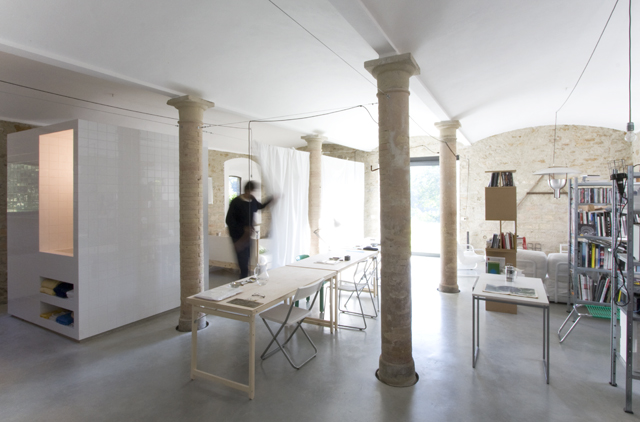 Tiles and Concrete
Tiles and Concrete, Lasagnana – Tizzano Val Parma – Italy, 2011 – with Francesco Di Gregorio
Located in Lasagnana, on a tiny street in the middle of Val Parma in Italy, the ground level of a former stable from 1897 has been converted into an apartment / studio for a young couple.
Dimensions and forms come from the positions of existing elements: windows, walls and columns. The strongest element of the stable was, for us, the "whole space" which we fell in love with. A bathroom is the only volume added, completely covered in white 10×10 cm tiles that bring light and uniformity. It is a freestanding structure where space has been turned inside out. Inside are the functions needed, outside the circulation. The bathroom stands on a new concrete floor, which is separated from the existing walls and columns by a gap framed by steel plates that define the floor's limit and absorb its flows. The electrical connections hang on stainless steel wires which also support vertical elements dividing the space. The "whole space" is the bathroom, the bathroom is the "whole space", all supported by a uniform slab.
Legolands by Francesco Di Gregorio Karin Matz from Karin Matz on Vimeo.